Government helping start ups, other countries noticing start ups and Innovative initiatives of start ups
We at eGrowth begin a newsletter to ensure that all of us get the news that empower and inspire us.
We all know that a country is known by its citizens. Though India is well known for its professionals like engineers and doctors, it has not been known for its entrepreneurs, though there are many of us who have indeed achieved a lot. One of the reasons could be because many people have been averse to charting their own path until recently. The fact however is that only those who have been able to do so have etched a path for themselves, whatever their field may be. If people wish to genuinely become doctors, engineers or salaried professionals, they should of course follow that path. If however they wish to start their own enterprise then too they should be encouraged to do so. This is indeed happening slowly but steadily.
Very often we feel the government is not doing much to help anyone, especially in business. This is not really true as the government is indeed helping all of us to step into the area of start ups, whether it in urban areas or even in other regions. We bring to you two initiatives that showcase initiatives of the government, one in Karnataka and the other in North East.
On another note, Estonia as a country is looking at India as a source of entrepreneurs. This, more than anything else, shows the level where India has reached in the perception of the world as a land with entrepreneurs. According to me, this is real "India shining", a phrase many people often use for several reasons.
Another development that is being observed is that startups in India are often using many innovative methods to showcase their products and ideas. After all, India has always been the land of innovation and creativity.
In this environment, we at eGrowth are proud to be associated with entrepreneurs of all kinds and connecting many of them for leading a complete life.
One of the premium members whom we are proud to be associated with is Dharmishta Shah. Her interview in this newsletter makes us more aware of her as a person and her journey in becoming an active professional.
We include an interview with Thasneem Masood, who is working on making fashion stylish and sustainable in a world that is often not able to combine principles with business.
Apart from  business, we need to of course take care of our own selves too. In the first newsletter, we bring to you an interview with Dr Salila Tewari, the mission of whose life is to help people move towards health using the simple technique of nature cure.
Hope you all enjoy reading our newsletter and look forward to the next one.
Why the Government is Aggressively Trying to Create a Favourable Startup Ecosystem
The Indian ecosystem has not just grown, but evolved with time. Even though the metro cities continue to take the lead the startup community of the country, Tier-II cities are not staying out of the race either.
Entrepreneur in Karnataka? Government will pay you a stipend
The government of Karnataka has released a new policy called the Rajiv Gandhi Entrepreneurship Encouragement Scheme under which new entrepreneurs can avail stipends ranging from Rs 10K to Rs 30K for a period of 12 months. Click here to read more
Come to NorthEast, says Dr Jitendra Singh
The Union Minister of State (Independent Charge) of the Ministry of Development of North Eastern Region (DoNER), MoS PMO, Personnel, Public Grievances & Pensions, Atomic Energy and Space, Dr Jitendra Singh invited young Start-Ups from all over India to come to Northeast and try their fortune through unexplored potentials of the region.
Addressing a gathering of participants, after going through the various stalls put up at the "Skill India" exhibition at the Jawaharlal Nehru Stadium here today, Dr Jitendra Singh said, while all the avenues of livelihood and new ventures are gradually getting exhausted in other parts of the country and States, the immense unexplored avenues and potentials of North Eastern region are still available and beckoning the young entrepreneurs to come and try their luck.
In addition, Dr Jitendra Singh also referred to the decision taken by the Ministry of Northeast to provide "Venture Fund" to any youngster who wishes to set up an entrepreneurship in the region. He said, this provision will be in addition to the provisions already available in Prime Minister's "Start-up India, Stand-up India" programme, which includes provision of tax holiday as well as 3-month exit period. Click here to read more
Estonia pitches Indian startups with 'Make in India & Sell in Europe' proposition
Touting its e-Residency programme, Estonia is pitching for budding Indian entrepreneurs looking to ride the next digital wave and start up their ventures in a seamless, hassle free and technology-driven environment to set up base in the county. Terming it as the perfect solution that enables access to a government-issued digital ID and providing an access to the entire EU while working from India, Estonia says the country wants to enroll over 200 Indian startups this year. Click here to read more
The Queen of Friendship, Dharmishta Shah
Sometimes we come across people who show us what connecting with others and making their life better is all about. As we all know, a good business also seeks to establish these very connections, which is why we are proud to have Dharmishta in our team. Read More at 
Style with a punch of sustainability
By Jamuna Rangachari
Thasneem Masood firmly believes in sustainability and produces sustainable womens' wear and other eco-friendly products through her brand, Rossbelle that she has co-founded. Read more at 
A healer par excellence
Nature can indeed heal says Salila Tewari who has dedicated her entire life in ensuring this happens guiding others wherever they may be.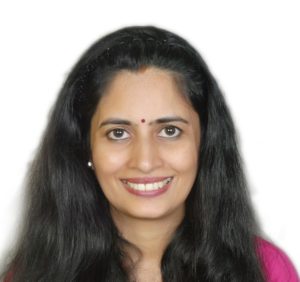 Jamuna Rangachari is the digital content curator at eGrowth
eGrowth is world's first BAD (Business Advisory and Development) Platform. Entrepreneurs committed to growth in their business are our members. Do Subscribe to eGrowth if you wish leverage the platform and publish your articles