Thasneem Masood firmly believes in sustainability and produces sustainable womens' wear and other eco-friendly products through her brand, Rossbelle that she has co-founded.
What made you step into the domain you are in now?
I aspired to start my brand since I was 13. I began my career with Fabindia where I fell in love with the brand for its vision of celebrating ethnic products and craftsmanship of rural India and their constant endeavour to bring what they love most about it – glorious traditional handicraft  to customers all over the world. Excelling in the very things I was passionate about helped me gain the ability to conceptualise and bring ideas to life creatively. My love for sustainable fashion grew as I realised the scope of impact that the fashion industry had on the environment. Having garnered over 8 years of experiences in the fashion industry, I chose to join hands with my co-founder Adveta and we set about launching our own label where fashion and sustainability can co-exist. With an in-depth understanding of the principle, merchandising techniques and the ability to infuse ideas to energise a brand, we aim at preserving the rich heritage of our country and its handicrafts through eco-friendly fashion by creating a base for skilled and sustainable rural employment.
What makes you feel you have taken the right step?
I am someone who believes in "live and let live". The biggest problem lies in the irony of the fast fashion system, which is one that's still rooted in consumption. Buying more clothes, no matter how "sustainable" they are won't help the environment. Around 350,000 tons of used clothes go off to landfills when 95% of these discarded clothes can be recycled or upcycled.
Further, while employment and creating sustainable skills-based employment in the rural areas is on the rise, rural people are moving to urban areas to attain better employment and amenities. Due to this, the crafts and skills that are rooted in us is also dying.
Taking this as an opportunity,  I began working  to keep this craftsmanship alive by creating a sustainable lifestyle for the people involved while making consumers more ethical by educating them  to cause as little damage to our planet as possible.  Now, I see a lot of people shifting to handmade products and sustainable lifestyle which is a very positive thing.
When in a challenging situation, who or what has helped you overcome it?
It's always been my willpower to never give up and this has helped me overcome all challenges in life. While I'm blessed to be surrounded with people who I can turn to in any need, it's my realisation that any kind of challenge is only temporary and would change based on how we swim through the tide.
What is the principle you follow in ensuring you give good advice?
Firstly I don't advice anyone even if I'm asked to. There is no point in advising anyone if they don't understand what you are saying. It's important to learn to communicate in their language which is what I try to do.
What is the motto of your professional life?
There are many principles I follow. I have always tried to build a good name. Knowing what you are doing so that there is complete clarity is also something I follow. Believing in what I am doing is another principle of mine.
Apart from this, I always ensure I maintain the work-life balance. I empower myself and people around me and have a long-term goal/vision and work towards it one step a time. I also have a process and plan and do make sure there is also an exit plan that can be used when required.
Having said this, I know that every day is not going to be perfect and smooth. Whatever happens are all lessons of life.
Who are the people who have inspired you?
First, my dad who taught me that all experiences in life are momentary and we need to take them as learning lessons.
My mother who taught me that I need to define certain principles and discipline in life.
Prophet Mohammed. He is a perfect role model on how to be of exemplary character with kindness, compassion, gratitude, courage, fearlessness, self-reflection, and an unwavering belief in one's mission.
John Bissell, the Founder of Fabindia
Jayalalitha, the late Chief Minister of Tamil Nadu. She is an inspiration to all women leaders. Of course, there have been many before her but she was a living example for my generation.
Any independent and fearless woman who stands up for herself and fights her own battle
What is your vision for the future?
Creating more ethical consumers. Empowering people to lead a sustainable and ethical lifestyle where both the people and the planet are considered in the choices we make.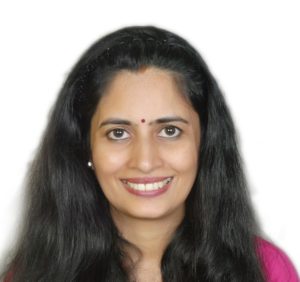 Jamuna Rangachari is the digital content curator at eGrowth