My Journey – Dr. Bhavi Mody
Please tell us about yourself
Something about me…
I guess everyone knows me as an accomplished Homeopath, but there is more to me.
I am a proud mother to my twin daughters and have a great supportive Husband who is the wind beneath my wings.
Only daughter to my parents, who raised me to be what I am today.
I am a very family oriented person and thrive on friends and family. Have a close bunch of friends,who are always a call away. My patients again have become my extended family. I believe in Karma. The Good that you do always comes back to you and in ways that you never expected.
My learning from life is expectations are root cause of conflicts. Cut the string of expectations, do your bit and try to change yourself and not others. This is I believe the key to happiness.
Share about what you do
Professionally,I am a passionate healthcare professional,who provides quality HolisticHealth Care services with Homeopathy and Lifestyle modifications.
Founder at Vrudhi Holistic Health Care Services and Edusyche.
We work towards making you a better and Healthier version of your own self. At Vrudhi we believe in Mind Body Equilibrium and equip you with strategies for the same,along with Homeopathy and Lifestyle modifications.
A Humane Approach to Holistic Healing is our vision. Working towards this vision we have a FB group called Your Health in Your Hands! We aim to work towards Health Promotion and Disease Prevention with our Various initiatives like LetsWalk, LetsBreakfast LetsSip LetsSleep.
Each day we roll out tips, articles, writeups, recipes working towards 360°wellness.
We have collaborated with various experts in different domains to provide the same.
To reach out to maximum people and Provide HolisticHealth Care services beyond boundaries we have our website. This is a complete online portal to seek treatment in just 5 steps with home delivery of medicine.
Apart from this I am a Blogger, Entrepreneur and Speaker.
We conduct workshops and seminars for Schools and Corporates.
Here again the mission is to create awareness for Health.
Women I believe are True Health Ambassadors. One woman empowered is not just an individual but a family and community empowered, as most of the kitchen and health decisions lie in her domain.
Working in Healthcare for more than 22 years, I have seen a shift in diseases and outcomes. More lifestyle disorders are making way into our lives and one needs to take charge of them.
With Healthy Eating Habits, Adequate sleep, Exercise and Homeopathy we have been able to tackle these conditions effectively. PCOS, Thyroid, Allergies and Obesity are successfully managed with our 360° Wellness program.
At Vrudhi 'Your Health in Our Priority'.
We are putting back Your Health in Your Hands since 1994.
Say something about your beginning
Childhood was very happy.
Only child to my parents,we were quite well to do,never experienced any struggles. But Yes,my dad was a disciplinarian,and needed everything in proper place which helped my organisational skills.
My mom raised me to accept every one and be tolerant and keep balance in worst of conditions,which again helped sail through difficult times.
I was never a pampered child. They believed that I should always be future ready,as one doesn't know what future has in store,hence was groomed so.
I had all the freedom but came in with responsibility.
So talking of business, I think as everyone, we have had our share of struggles. One doesn't grow without struggle.
Was married young, immediately after my DHMS, setting up practice takes a while,and so my husband and me took different avenues to earn as we felt after marriage we need to contribute financially and cannot be dependent, so we did a couple of things some worked some didn't, but we as a couple stood by each other and never gave up. We both pursued our Post Graduation when our Twin daughters were 5 years of age.
We settled well in practice and after our post graduation, since my husband did his with Psychiatry and trained in the US to manage children with special needs, we set up Vrudhi Research Foundation.
As with all business, we had early teething issues, but we grew.We then Set up Edusyche, at the Peak of our careers. At age of 42 entering start up world, creating a niche product, with zero marketing budget,was a mistake. We realised one needs to have almost 50%marketing budget!
Our hard work, patience and persistence paid. Now working as a Health evangelist trying to bring Health back into your everyday life.
What have been some of your achievements
Achievements have been quite a few
1. Gold medal at graduation.
2. Launch of Mentagram, our Mental health app.
3. Various awards and accolades like Wearethecity Rising star awards India, Women Acheiver award, Hastakshar Self made Diva award, M2M convention trophy. Nominated for the ICICI Woman's Advantage Awards.
My blog making it to the Top 5 at the Orange Flower awards.
4. Various Media mentions online and offline.
5. Expert to BabyChakra, Sheroes, Oowomaniya.
6. Quoted for Health and Wellness on online and offline platform like HealthSite Mid Day, TOI, My Little Moppet.
7. Successfully completed the mentorship program at the Cherie Blair Foundation UK.
8. Pursuing my post graduation in Dietetics and Food Management System currently.
9. Greatest achievement is smiles of my patients and their positive feedback.
The difference you have made to others
I believe even if you can make a small difference in anybody's life your life is worthy.
Conducted various health camps for women and children.
Write and blog to create awareness.
Everyone deserves quality healthcare services, and one should not be deprived of it due to financial constraints,so we provide our services to them at very nominal fee.
I think our testimonials speak about the work we do.
What do you want to be acknowledged for
Being a trustworthy and reliable person.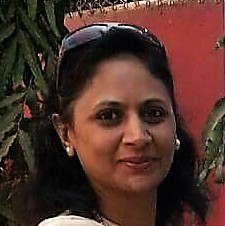 Dr. Bhavi Mody is a Mumbai based Health Evangelist, Blogger, Entrepreneur and Speaker.
eGrowth is world's first BAD (Business Advisory and Development) Network. Entrepreneurs committed to growth in their business are our members. Do Subscribe to eGrowth if you wish leverage the platform and publish your articles