eGrowth organized 25 Mixers across 7 cities during first 3 months of 2018. This was 14th Mixer at Indian Research Academy, during 2018. definitely one of the most vibrant events.
Some highlights
We had 13 participants today, namely – Ashish Kapoor , Rajesh Pandit, Monika Solanki, Atul Puri, Manish Kumar, Shree Dembla, Praveen Modi, Vishal Garg, Vineet Suri, Abhaya Maurya, Shabana Khan, Mithilesh Jha and Geeta Nandakumar  
All of them had been to eGrowth events in the past.
Its been one year since The Road Ahead New Delhi ( 2 April 2017) and  5 of the participants today participated last year as well
Business Results  – Most of the participants had generated at least one referral / lead from the platform
Business Results – 9 of the participants have already got business at least once from the platform
Everyone without fail believes eGrowth  is headed in the right direction. It is just a matter of time that generating regular business will be a standard affair.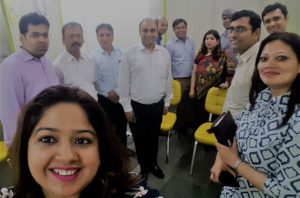 We are excited to meet on 14th April for eGrowth Extravaganza at New Delhi. This will be the first party organized for entrepreneurs by eGrowth.
eGrowth is world's first BAD (Business Advisory and Development) Platform. Entrepreneurs committed to growth in their business are our members. Do Subscribe to eGrowth if you wish leverage the platform and grow your business