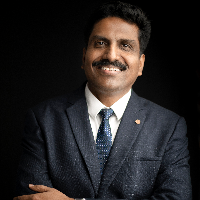 Mr. Virendra G. Ingle
Serial Entrepreneur, Business Coach
---
I am a Serial Entrepreneur. Business Coach, Retail Franchisee Coach - I have started multiple business ventures and established brands in * "Medicopoint" Pharmaceuticals Retail Stores, * "BIZMIS" Tally on Mobile - Mobile Applications, * Velocity Infovision - Software Development & Digital Marketing * CDET - ( Center for Development in Engineering & Technologies) * Velocity Xcelerator - Business Coaching and Consultancy. I have been passionate about the Growth & Success of SME, MSME, and enterprises. Well! I before resigning from my 20-year corporate career I entered into business in 2016 just to chase and fulfill my dreams. I started this journey with a vision to support aspiring entrepreneurs, SME, and Mid-sized Corporates. The company "Velocity Xcelerator Pvt. Ltd." focuses on helping with designing their ideal business plan, setting goals, training of their manpower, and building of next-level leadership. The company is also striving on helping the new-bees to run their businesses in an autopilot mode and become a successful Entrepreneur.
| | |
| --- | --- |
| SUBSCRIPTION | INNER CIRCLE |
Mr. Virendra G. Ingle


Pune

18 January

---
Government IDs
GST

PAN

DIN

Opportunities
Requirements
Opportunity for Business Consulting, Franchisee Rollout. Connect with SME and MSME and SAAS (Software as a service) companies. Connect with Aspiring Entrepreneurs who want to roll out their Franchisee or Build a Channel network or Distribution network.
Offers
30 mins free 1-2-1 to understand your business challenges and help you to reach close to your excellence.
Business
Profession

Profession : COACH / MENTOR
Headline
: Founder Director - Velocity Xcelerator Pvt. Ltd.
VIEW MORE
CONNECTION
NO
Connections
0
Blogs & Articles
0
Events
3

Requirements
0
Offers
2

No. of Companies
0
Membership
1
Date of Creating Profile
12-02-2019
MY SUBSCRIPTION
When is it due for renewal
01-03-2022
Link for renewal
Subscription