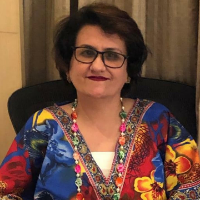 Mrs. Neeta Parashar
I help people who face mental challenges in life.
---
A Globally certified Emotional Intelligence practitioner who loves to coach 121 or train you in a workshop and cousel you for your issues, I'm a Certified Master Life Coach with Expertise in Linguistic Artistry and Hypnotic Conversation. I am also a Blogger, Laughter Yoga Trainer also. My Niche is making you emotionally more stronger. I work on self love and inner child strength. If your inner child strength is powerful you have all the tools to be more productive professionally and in all areas of life. You can even create wealth just by balancing your emotions and inner child. I also work with women enterprenurs and startsup in helping them create balance and sharing tools for their growth.you can read more about me and my services at www.neetamehta.com
| | |
| --- | --- |
| SUBSCRIPTION | PREMIUM |
Mrs. Neeta Parashar


New Delhi

19 July

---
Government IDs
GST

PAN

DIN

Opportunities
Requirements
Love to work with disabled people,NGO for emotional and financial stability. women entreprenuers or anyone who wants to grow just by balancing ur work and life. People who need to more productive professionally. People facing any kind of challanges in life. Anyone who wants to enjoy relationships and life more. Elderly people facing issues of loneliness.
Offers
First 40 . mins meeting free to listening patiently. Helping you grow your productivity and personal growth. Make you fall in love with you.
Business
Profession

Profession : COACH / MENTOR
Headline
: Emotional Intelligence Coach
VIEW MORE
Business
Education, Training & Recognition
School
Connections :
0
You can send upto 50 Connections
CONNECTION
NO
Connections
0
Blogs & Articles
1

Events
0
Requirements
0
Offers
0
No. of Companies
0
Membership
1
Date of Creating Profile
28-02-2019
MY SUBSCRIPTION
When is it due for renewal
01-01-1970
Link for renewal
Subscription