18th Feb. eGrowth Bureau
MachAuto Expo is in its 7th edition and is one of the most sought after exhibitions for Machine Tools and Automation Technology in India.
eGrowth visited the exhibition on 17th February. Our premium members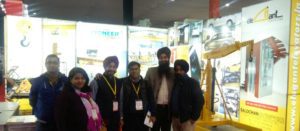 M/s Pioneer Cranes have put up a stall there.
Others members from eGrowth at MachAuto are Jagdeep Foundry – Batala, Asian Cranes – Ludhiana, Weltech Equipment & Infrastructure – Ludhiana,  KMT Engineers – Ludhiana
The expo has been organized by UDAN media and communications Pvt. Ltd.  They are a large player in the events space.
There are 400+ exhibitors from 11 countries. Some of the better known companies who participated this year are – Ace Micromatic group, Jyoti CNC, Delta Automation, FANUC, Phillips Machine Tools BFW.
Speaking on the occasion Mr. G.S. Dhillon, MD Udan said that the  expo has been very well received and it is expected that there will be about 50,000 visitors for the current edition.
For more information visit www.machautoexpo.in