Please tell us about yourself
" A dream doesn't become reality through magic; it takes sweat, determination and hard work." Myself is Trupti Girkar, trainer in shipping industry. Teaching is really a hard work which requires creativity, knowledge, skills and empathy – the kind of emotional intelligence that can't be readily acquired.
Teaching is a very noble profession that shapes the character, caliber and future of an individual.
I have total eleven years of experience in Global Logistics & Shipping Industry. Total teaching experience more than 14 years and staged more than 15 Management Development Programs for employees of shipping lines and logistics companies.
Share about what you do
I am a trainer in international Shipping and Logistics industry. In most of Exporters, Importers, Freight Forwarders, Logistics companies actual procedure knowledge is very poor. Often employees in logistics industry just stumble in to this profession. Many people learn how to fill the forms, issue documents, get trained on in-house systems, blindly follow S.O.P., work in one department for many years and become so called experts. This happens because there is no formal education customized for employees working in logistics industry.
Trained and knowledgeable employees are vital for your success. Unfortunately people in many organizations carry on with their work without strong fundamental knowledge.
With sound fundamental business knowledge can take practical but fundamentally correct decisions to achieve high levels of customer satisfaction.
I also do training for lashing & securing of cargo so that it will be safe for sea transport. Do customize training as your cargo pattern to follow best stuffing practice.
Say something about your beginning
I have done BSc in Physics and after completing my Export Import course from WTC I joined Japanese Shipping Company MOL (Mitsui O.S.K. Line). My mom and her mom (My Grandma) both were teachers and hence I have always been fascinated with this profession. Even though I was working with another department,  willingly I came forward and took responsibility to train new joinees in my company. Further my company gave me opportunity to be Special cargo approver for consignments across Asia. There I have handled DG (Hazardous) Cargo, Odd Dimension Cargo (Cargo which cannot fit in normal containers). Here I got opportunity to communicate with various Asian, Oceanic and European countries and observe their trade procedures, their way of doing business. Some of these countries were very technically sound and at that time I feel I should flow my knowledge to everyone and hence started GST Logistics Pvt Ltd.
What have been some of your achievements
I have been felicitated four time in MOL for my best Performance (Quarterly basis), also have conducted training programme on lashing and securing of cargo for Ashish Life Science Pvt Ltd at their Tarapur Factory.
I am also a Marathon Runner… completed half marathon 5 times.
The difference you have made to others
I am always motivated and I always see to it that whoever is coming in contact with me, I learn from them. We always keep training to ensure everyone in our office is growing by knowledge day by day.
I believe that for every individual self-growth is mandatory to keep their moral high. I always ensure that people coming in contact with me gets motivational & positive waves from me.
What do you want to be acknowledged for
I would like acknowledged my self as Trainer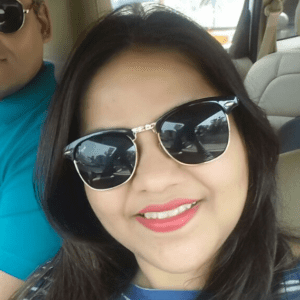 Trupti is the founder of GST Logistics Pvt. Ltd, a Learning & Development organization in international shipping and logistics industry
If you want to be featured in My Journey – By eGrowth, click here