Please tell us about yourself
I am an NIFT graduate in textile design. After working in the industry for two years I decided to channel my passion for design into something that was more than just mass produced gifts. This is when Think Artly happened. I love to travel and collect souvenirs and this is what helps me in thinking above and beyond for think partly and what our patrons want.
Share about what you do
"Think Artly came into being when I channeled my passion for creative decor products into creating something beautoful for lifestyle spaces.
Think Artly is a unique platform that offers customised portraits crafted in digital fabrication and etched in wood. Each gift is a reflection of your love for your near and dear ones. The brand recently launched backlit photos, a seamless blend of carved portraits and lamps for the perfect decor accent."
The brand has currently expanded the product line with customised plaques and lamps.
We were recently recognized and are one of the few brands to get aid from Start Up India Yatra – UP Edition.
Say something about your beginning
For as long as I can remember I have been inclined towards art and craft. Even as a kid I was more interested in art than studies and there was not one art competition that I wasn't a part of. It was all about creating things. I have been a huge supporter of DIY and my entire family has gifts from me that were crafted especially for them with my own hands. It is this passion for design that led me to join NIFT and after college I worked with a buying house for 2 years but I knew that this was not my calling. That is when I quit my job to start Think Artly, a brand that will be an epitome of customized gifting and help people in picking gifts that matter.
What have been some of your achievements
One of the brands selected for Incubation by Start Up Yatra, Uttar Pradesh. Mentorship by IIT for our start up
The difference you have made to others
There is a lot that goes into gifting. It is about expressing your love and gratitude for the people that matter the most to you. While there are many gifting options available today feel like they lack that human touch and that personalized thought into every gift. This is what led to Think Artly. We wanted the gifts to be artworks and hence were started doing customized portraits in various sold surface including wood that can be back lit. Every portrait is different and is carved using dots and lines!
What do you want to be acknowledged for
We want to be recognized for niche customized products with unparalleled quality.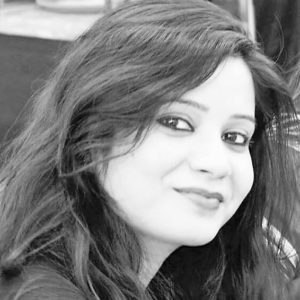 Suchita is the co-founder of Think Artly, a custom gifting platform from Kanpur, India
eGrowth is world's first BAD (Business Advisory and Development) Network. Entrepreneurs seeking growth in their business are our members. Do Subscribe to eGrowth if you wish leverage the platform and publish such articles