Please tell us about yourself
My name is Naina Kanaujia the main founder of Atriyat . I'm 32 years old and Graduate in Economics. Previously I Co-founded a start-up called Electron-kits, an online educational electronic kits development and sales platform which is still running and providing training and innovation support in 10+2 and engineering colleges.
Due to my interest in the field of fragrance and perfumery, I did a three month course at Flavor and Fragrance development Center, Kannauj and simultaneously explored the Ittar/attar (non-alcoholic perfume) ecosystem in Lucknow, Kanpur and Kannauj (Attar city of India) with studying the traditional process of Ittar/attar making and gathering data on the customer preference taste and trends, I also worked on studying the online scenario of perfume and fragrance business collected information on Grasse in France also called the twin city of Kannauj with the our whole team dedicated to this project Atriyat.
Share about what you do
We have named our venture 'Atriyat'. This word is derived from rishi 'Atreya' one of the great sages one who influenced Ayurveda and wrote 'Bhelasamhita' in 6 century B.C it contains study on Ayurveda including the mention the use of essential oil over human body, Therefore laying the foundation of ittar/attar the word which again is derived from Rishi Atreya coming at later sages.
We at Atriyat wished to maintain and bring forward the age old tradition of ittar/attar from Kannauj to the people without breaking the process which is proprietary to its tradition, therefore we provide traditional exotic ittar/attar and their special blends which are created in an advance perfume labs using unique technical method through the online platform which enables the consumer to order fragrance out of their imaginations using our special website tool.
Say something about your beginning
I began my journey as an entrepreneur from around 2010-11, I co-founded a start-up called Electronkits which was focus on providing educational electronic kits and training material to schools and college student. Start-up was successful we sold thousands of kits last 7-8 years and our client exist all over Uttar Pradesh. This start up is now being managed by my co-founders and since last couple of years I ventured into new direction for establishing another start up called Atriyat which is focused on production, procurement, blending, and sales of pure and natural exotic attar/ittar using traditional production methods. This all started when I visited my parental village of Kannauj. There I saw the traditional ittar/attar production houses using distilling methods which was laborious and lengthy but the traditional workers and labour are being faced out from the old traditional market of ittar/attar or non-alcoholic perfumes and being replaced by new range of aerosol deodorant and synthetic alcoholic perfumes. this made me think of beginning a project which totally focused a preserving a traditional age old art of attar/ittar making by creating a big brand for the Indian attar/ittar tradition, I have seen that the consumer of attar/ittar have a very loyal base and are a big segment in fragrance market and their seems to be a demand for a brand that can provide traditional and pure attar/ittar. I created Atriyat to provide special blending and to developing new fragrance using advance technique and the online market place as well as through offline services and word of mouth publicity.
What have been some of your achievements
I pitched my idea at Vibrant Gujarat start up summit 2016 in Ahmedabad/Gandhi Nagar. I was selected by 'start up India yatra' 2018 as a promising start up in UP. Selected by IIT Kanpur for incubation at their bio incubator and receive a letter of intent by them. Selected by the incubator Birla Institute of Management and Technology, Greater Noida for incubation. Selected by NXG ventures, Ahmedabad for incubation and funding support.
The difference you have made to others
People who weren't aware of ittar/attar before are now using Atriyat products on permanent basis. Many of our clients switched to attar/ittar from alcoholic perfumes and deodorants.
What do you want to be acknowledged for
Integrating this age old art of attar/ittar making with latest chemical methods and marketing technique which would in turn create greater profits and recognition for people who are connected with this trade like farmers, distillers, traders etc. and I want to set a renowned brand which is known for its purity.
Anything else you wish to share
We are unique and our choices are different from one another, so when you come at atriyat you get to choose your own special blend of fragrance which suits your personality and celebrate your individuality because fragrance have a special place in our healthy and pure life.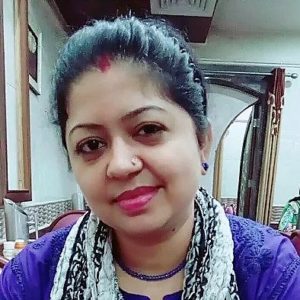 Naina is founder of Atriyat. She is committed to revive the age old tradition of Attar / Ittar
If you want to be featured in My Journey – By eGrowth, click here