My Journey – Dr. Sunanda Nesari
Please tell us about yourself
My name is Sunanda Nesari, born and brought up in Mumbai. My mother is a housewife & father is a retired executive engineer from M.S.E.B. I have two elder brothers & one lovely sister, who are highly educated professionals & have well set goals in their life. My both bhabhis & brother in law are very focused in their lives & committed to their families. I am married to Dr. Navin, who is dentist by profession. We have one daughter who has made our life complete & meaningful. My in laws are my strength. My brother in law & my co sister are living a fulfilled life. I have completed my entire education in Mumbai. I did Vipassana, Art Of Living & Brahmavidya. I learned acupressure technique. I am also into Landmark Education which allows us to live a life of anything is possible.
Share about what you do
I am practicing Ayurveda & Panchkarma since last 16 yrs in my own clinic in Thane. I am proficient in weight reduction & joint disorders. I have treated more than 500 patients of obesity & more than 400 patients of joint disorders. I have received national & international awards for the same. My hobbies are reading books, learning new techniques & creating new things ongoingly. In my space, people feel free to share their lives & get easily opened up with me, which helps me to find out the main reason of their illness. So along with medication, I do counselling also, which helps patients to recover fast.
Say something about your beginning
After completing my graduation, I started practicing Ayurveda in 2001. My career started well with working as a lecturer in Dr. D.Y.Patil College at Navi Mumbai in 2006. Going to college in day time & managing clinic in evening was very tiring for me, 14-15 hrs working in a day. After 6 yrs of hardship, I left the college & started clinic both the times. From 2012 to till now, I am working as honorary associate professor in college. In 2012, we purchased our house near to clinic so that we can be easily available to patients to contribute in their lives.
What have been some of your achievements
Attended more than 20 national seminars, 3 international seminars in Coimbatore, Mumbai & in Haridwar, India. Published a small booklet on stress management in 2009, published a article on obesity in 2017.
Every year, we go for vacation. Visited many places in India, Visited United Kingdom twice, we enjoyed Europe Trip last year.
We are living a life we love. We both get enough time for family , business, vacation, maintaining health.
The difference you have made to others
Being a Doctor, I have made tremendous difference in many lives by relieving patients from their illness. Also made difference to many people by giving them technique to live a life they love.
What do you want to be acknowledged for
For bringing awareness to people that by maintaining health of body, soul & mind, they can achieve their goals.
Anything else you wish to share
If we believe in ourselves & accept the life as it is, we can progress very well in life without struggle. Nature wants growth. So environment always supports us to achieve what we want in life. Only thing is we need to be clear what we want in life.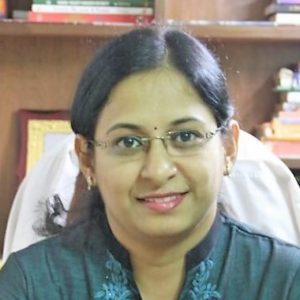 Dr. Sunanda Nesari is a practicing Ayurveda and Panchkarma specialist from Thane, India
eGrowth is world's first BAD (Business Advisory and Development) Network. Entrepreneurs committed to growth in their business are our members. Do Subscribe to eGrowth if you wish leverage the platform and publish your articles