Tell us about yourself
I am a blissful soul named Charu Puri Gupta born and brought up in the lap of mother nature Dalhousie. A small town in Himachal Pradesh to a Punjabi business family with a name in trade on my father's side my mother was a government teacher and rest were all well-educated and carried education to higher level in the field of literature and trainings. I have grow up listening to the stories of Subhash Chandra Bose and Lord Dalhousie from my grand father, who was a writer in Hindi and Urdu holding a name of his own.
I have 2 brothers who are highly educated professionals and have well set goals in their life. I am married to Mr. Sunil Kumar Gupta a Rajasthani Marwari who is runs his own business in pharmaceuticals. Its only 20 years that we have been together looking for many more to come. I have 2 kids and my In-laws are my strength. I have been blessed with 3 sisters from my In-laws side who have their own families.
I had my schooling in the world class school of Rudolf Steiner pattern name 'Himgiri '. Where studies were joy and learning was fun. I grew with best of teaching skills and did my graduation from H.P.University , NTT from Meerut university , computer course from times. And a Designing in fabrications . Painting and writing has always been my hobbies which have given me strength out and inwardly. I am a God believing person and love nature.
Share about what you do
I believe in sharing my smile with my family, friends, neighbours or the needy unknown. I reach to the group of people , or children uneducated, unprivileged or physically challenged who don't get support from anywhere. I make my effort to get them do better and not named for. All this is possible with my husband's help on my side. I am a power house for such people who want an ear to listen and a heart full of feelings to feel.
Say something about your beginning
I was a very quiet and a shy girl but my upbringing has taught me that my self-respect was my attitude. I had performed In speeches, plays, dramas and poetry competitions during school and college. This learning had brought a stability in my nature. Painting and writings have always been a strong side of my living, As I got published my articles in Hindi edition of Himachal and Punjab newspapers. School letters, newsletters and local publications at times. My article "The dying birds at Sultanpur" was also published in a paper in Delhi in 2011. I wrote a play which was enacted at Shiv Mandir Green Park main by a group of children under my guidance on the occasion of Independence day rising the spirit of patriotism in the assembly of thousands.
As being a social worker earning money has never been on my mind but when. I painted 20+ suits before my wedding in just few days for people so that I could learn a hand on my hobbies. I was paid well along with countless blessings which is my treasure even today. This encouraged me to paint at special occasions for my near and dear ones as a token of love to cherish a memory. I have an experience of earning while I was teaching at Sacred Heart Convent School in Dalhousie before I got married.
I supported the unprivileged once for that I participated in exhibitions in Delhi, Sundernagar and Gurgaon at the Diwali melas contributing a little of my help by making and selling handmade cards,diyas, lanterns and bandhanwars on my own or I was helped for. I have a share of packing in dreams for wedding occasions. I am still at a starting of something big as dreams are to conquer a lot of loving hearts…
What have been your achievements
I am blessed in terms of love that is the richness I hold in the hearts I care for …
What difference have you made to others?
I have shared a smile
Anything else you wish to share
My journey of accumulating bless and bliss is continued..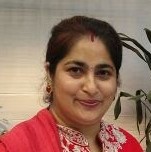 Charu is a powerhouse from New Delhi. She has been contributing to the society at large in multiple ways
If you want to be featured in My Journey – By eGrowth, click here