Please tell us about yourself
I, Archana Gavhane based in Pune am a fun loving, outgoing woman. I was born in middle class family and value the morals and fundamentals I got from my parents and the legacy continues with my kids. I am blessed with 2 loving sons aged 16 and 13 and very much career supporting soulmate. After completing my graduation in computer science from Pune University, I worked in IT industry for 14 years. But hunger for doing something different which I will enjoy from bottom of my heart helped me to start my new venture in Corporate Events and HR.
Share about what you do
After completing 14 years in IT industry in Pune and Mumbai by doing hard work, missing most valuable time with kids and family life, I decided to work for myself and on my terms and conditions. I have recently started my venture in Corporate Events with name 'Carving Events' and also doing HR and recruitment activities for couple of IT companies. I do all type of corporate events like seminars, award ceremony, sports events, competitions, job fairs, etc. I would like to see myself a successful business woman and should be recognized with my own name in this new industry. Being a fitness freak, I participate in different marathons and also volunteer in motivating people for exercise. Good practices begin at home. Hence, me and my family take care of health by doing regular group exercises, participating in marathon etc. I strongly believe we should return good values to society as society directly or indirectly always help you to grow as a successful personality. So, my next vision is to do events on women empowerment, health and fitness in society and many more…
Say something about your beginning
I have spent my childhood in Pune and Ahmednagar. Being a sharp yet much pampered child my childhood was like a fairy tale. But things started to change with time. And that helped to strengthen my inner qualities as a carrier oriented women. My life partner is my idol and strong supporter for me in all aspects. He is the motivator for making me as a entrepreneur.
What have been some of your achievements
Managing 4 pillars self education, job, kids and family at a time is the biggest achievement! :))
The difference you have made to others
Motivating women to become self sufficient in all aspects.
What do you want to be acknowledged for
My work and me as a individual successful women.
Anything else you wish to share
Empowering and valuing each and every individual in society will help in achieving new limits and growth.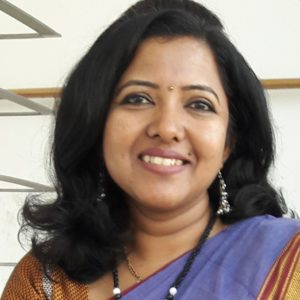 Archana from Pune is a veteran of IT industry and now an entrepreneur into HR and Events
If you want to be featured in My Journey – By eGrowth, click here