There are some like people like Sunita Biddu, who follow their dreams and in the process, inspire others to follow theirs. In the new space of creating a presence in the digital world, she has made a mark for herself.
Given below are her answers to our queries
 What made you step into the domain you are in now?
It was an accidental move some 13 years ago when I got into a situation where I had to prove myself, my abilities, existence and my choice of not going with the conventional jobs such as civil services, doctors etc.. Needless to say, I fell in love with this move forever the way it helped me and several thousands of my clients and students earn name, fame and fortune.
What makes you feel you have taken the right step?
I was always a freedom person. Someone who loves independence in everything. This choice gave me freedom to work from anywhere, make as much money as I want, help thousands of people without even meeting them. Every moment makes me feel grateful for taking this right step when I feel free and living my life my own terms.
When in a challenging situation, who or what has helped you overcome it?
Interestingly, the situation itself has helped me to figure out how to overcome. Every situation has a root. Most of times, we keep looking outside or on surface to find the solutions. If we begin with challenging the status quo and trace it back to the root, we end up finding the way out. Additionally, I have an amazing close network of some advisors and friends to extend a frank and unbiased helping hand when the above said doesn't seem to work. Let me share a quick situation here. Years ago, I had a total crash of one of my online businesses overnight because of a little ignorance which led to a unexpectedly huge financial and business loss. Until then, I had no network or advisors. I had to keep calm, be patient so my staff doesn't panic in the situation. We had our business back within less than a week but it also left a lesson for me. First, always have multiple source of cashflow. And that day made me create 3 more income sources. Second, have a strong and trusted network that can help you at tough times. This challenging situation turned out to be the most profitable disasters of my professional life.
What is the principle you follow in ensuring you give good advice
I keep a few things in mind.
If it has worked for me
If I am appropriately aware of the details situation in question for advice
If am equipped with expertise great enough to advise others
To make sure that my advice is valuable, I keep myself open to learning always. Learning is never over in the journey of life.
What is the motto of your professional life?
To help people utilize web, social media and their strengths to build their business empire, great personal connections and save time for themselves and their dear ones. It's difficult to express the feeling of fulfillment every time  I see students and clients excited, thrilled receiving amazing returns on money and time doing small changes they learn with me.
Who are the people who have inspired you?
No one specific. I have been inspired by my coaches, family, my close friends to my house help. Everybody has a unique life story and I am a seeker.
What is your vision for the future?
To create super simple digital tools and guides for entrepreneurs and seekers
Is there anything else you would like to share with us?
Digital world is amazingly useful but addictive at the same time. Social media is just a tiny part of this digital world. When used right, it can make one's life, professionally as well personally. And if overused, misused or abused, it can even take lives emotionally and professionally.
We should be using the technology, technology shouldn't take over our lives and humanity. We need to be in charge
As we finish our interview, I am happy to have spoken to this young entrepreneur who has taken charge of her life and inspires us to do the same.
Team eGrowth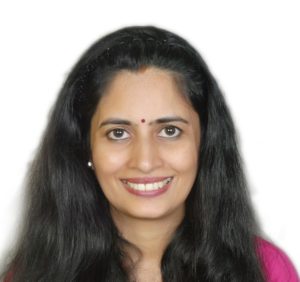 Jamuna Rangachari is the digital content curator at eGrowth
eGrowth is world's first BAD (Business Advisory and Development) Platform. Entrepreneurs committed to growth in their business are our members. Do Subscribe to eGrowth if you wish leverage the platform and publish your articles.